Disney has revealed a wealth of new information on their major new park opening in China. Although the landscape is still mostly brown and littered with construction vehicles, Disney is still pushing for a Spring 2016 opening date. Bob Iger was on hand in China to reveal an impressive scale model of the park and to reveal some new details and new attractions.
Mickey Avenue
Let's start at the front of the park. Shanghai will not have a Main Street in the traditional sense. Instead, the main entrance to the park will be themed around Mickey and his pals. Think of it as Toon Town meets Main Street.
Tomorrowland
Tomorrowland in Shanghai is a little sparse on attractions but it makes up for it by being awesome to look at. The focal point of the land is the TRON themed coaster, TRON Lightcycle Power Run. The name doesn't translate so well but the visuals do. There is a futuristic looking canopy covering the ride that will change colors and looks breathtaking. The ride vehicles are about as close as you can get to a real Lightcycle and should make the attraction thrilling. Buzzlightyear and a Jet Pack spinner ride will also be in the land.
Gardens of Imagination
Think of this area as "Fantasyland lite". The land, situated in front of the castle, features popular Fantasyland mainstays such as Dumbo and a carousel (themed around Fantasia). The Mickey's Storybook Express parade will also make its way through the land. Gardens of Imagination will also be the place to view the park's nighttime spectacular, "Ignite the Dream, a Nighttime Spectacular of Magic and Light."
Fantasyland
What will be in Fantasyland is there is no carousel or Dumbo? Plenty as it turns out. Classics like Peter Pan and Winnie the Pooh are in attendance as well as an Alice in Wonderland maze. Fantasyland is also home of the Enchanted Storybook Castle which hosts the Voyage to the Crystal Grotto boat ride as well as a restaurant and other venues within its walls. In a surprise move, the Seven Dwarf's Mine Train from the Magic Kingdom's New Fantasyland will be cloned over in Shanghai.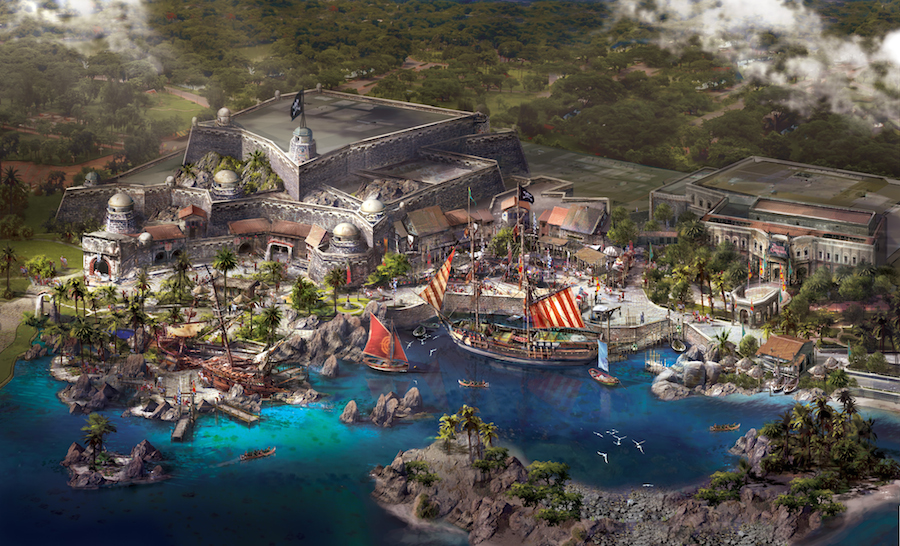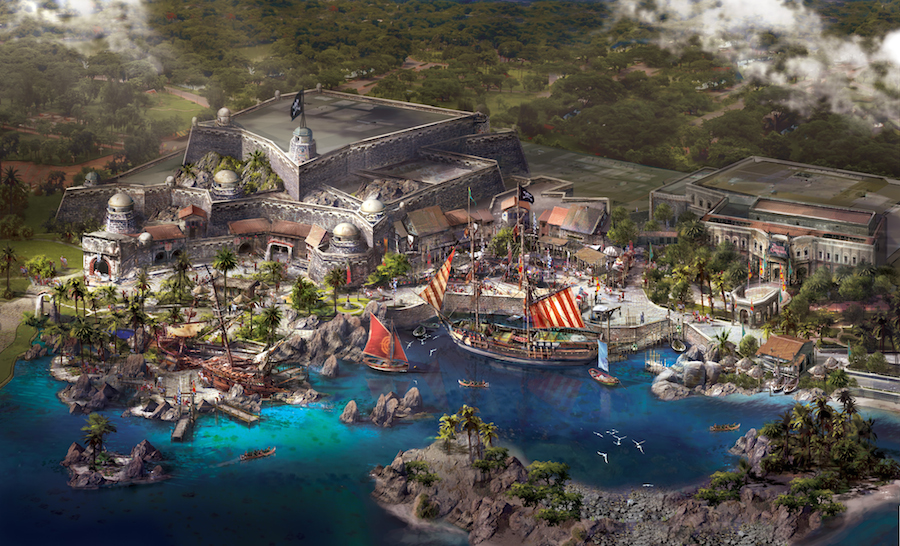 Treasure Cove
The first ever pirate themed land in a Disney park packs one hell of a Pirates ride. From what we've seen thus far, Pirates of the Caribbean: Battle for the Sunken Treasure look incredible and boasts plenty of cutting edge new technology. Eye of the Storm – Captain Jack's Stunt Spectacular, as the name implies will be a Pirates themed stunt show that looks to have some impressive special effects of its own.
Adventure Isle
Adventure Isle sounds like "Adventureland lite" but it is anything but. A massive mountain, akin to Mount Prometheus at Tokyo DisneySea, will catch your eye as you enter the newly discovered land. A new E-ticket attraction called Roaring Mountain will thrill guests as they careen down a river inhabited by some amazing creatures. Disney showed off a huge alligator-looking beast that riders will encounter on their journey. The ride vehicle is very similar to that of Kali River Rapids but this attraction looks bigger and wilder. Shanghai Disneyland will be the first park to receive the new Soarin' ride, Soaring Over the Horizon. That version of the ride should make its way stateside in a few short years. If two E-ticket rides weren't enough there are jungle trails to explore and a new stage show called Tarzan: Call of the Jungle.
Disneytown is the resort's shopping and entertainment district featuring Broadway style shows like The Lion King and plenty of shopping and dining.
Shanghai Disney looks absolutely incredible. I think Tokyo Disney has a serious competitor for greatest theme park in the world. Of course we won't know how the quality and attention to detail, as well as customer service will stack up until it opens but Shanghai is off to a really promising start.